Roll over image to zoom in
Description
Healing Crystal Worry stones are great for holding in your palm and using them to relax and reduce anxiety. They are also great to hold whilst mediating. This worry stone is made from Bloodstone, which is said to have a positive affect on the immune system as well as heightening intuition and increasing creativity.
Bloodstone is a very grounding stone working with the root chakra, and is great at drawing off negative environmental energies
This Worry Stone is approx 30mm x 45mm x 7mm and has a beautifully carved indent for holding. Colour and patterns on the stone may vary slightly from the picture shown.
Customer Reviews
Lovely stone.
Really pleased with Psychic tree service. So quick to dispatch and quality beautiful stones. A really lovely worry stone. That has been doing it's wonderful work.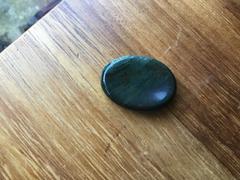 11/18/2021
Jane G.

United Kingdom
Brilliant.
I bought the bloodstone as a requested gift. I also bought several other items for myself and I'm very pleased with them. I love the site layout, easy to find things and reasonable prices. Communication was excellent, I knew when to expect my delivery, and the quality of the items lol,s excellent. I will definitely be shopping here again. Thank you.
08/11/2021
Sue E.

United Kingdom
I've just received the item this week. It has a smooth surface, lovely for rubbing. I get alot of pleasure keeping it with me and " rubbing my thoughts" into manageable categories and amounts! I bought a few items, all arrived safely and well packed. I will be using this firm again.
Payment & Security
Your payment information is processed securely. We do not store credit card details nor have access to your credit card information.