Roll over image to zoom in
Description
Used in protection, Quartz is a master healer stone, giving it excellent all round properties. It is often used to increase healing energy and is used for protection and capturing bad vibrations. This pointed version of the popular crystal, when pointed away draws energy from the body - if pointed inwards, the energy will be channelled back in. Historically, quartz has been used to detect food poisoning.
You can select the weight of the points from the menu. Size and shape may vary.
Stones sold individually
Customer Reviews
Clear quartz point
Bought 50-60g option thinking I would get multiple small points made up the that weight as the item is "points".. think this should be clarified in the description especially as the picture is showing multiples.. however it is a large chunky piece and I love the crystal itself! Just disappointed as I wanted multiples to make a grid with.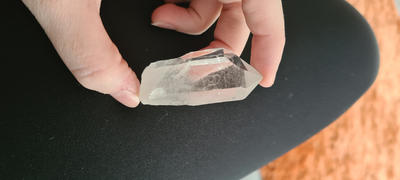 Clear quartz point
Good size and great price. Powerful piece. Very happy. Thank you
WOW
This is the only crystal that I've ever felt so much energy from. From the moment I held it I couldn't let it go and kept laughing, then the happy tears came. Ive never had this experience before. Needless to say its an amazing crystal.
Will definitely be getting some more, beautiful
clear quartz crystal
Beautiful chunky clear quartz crystals.
Wow these chunky clear quartz crystals are fabulous, I will be putting them in my crystal grid very soon, they're gorgeous pieces and I feel a connection to all of them. Shipping was very good. 100% happy customer.
Payment & Security
Your payment information is processed securely. We do not store credit card details nor have access to your credit card information.