Roll over image to zoom in
Description
Sandalwood is known as the most exotic and expensive wood in the world, which is much sought after for its precious oil. This richly packed masala incense stick has been created to provide a full bodied fragrance and gives a sense of being enriched to the fullness of life
Masala incense sticks are a South Indian concoction with several intricate parts. Flowers, resins, herbs, granulated wood, and gums are mixed into a semi-liquid cocktail that is then rolled manually over bamboo sticks.
15 Sticks in a pack
Hand rolled using traditional Indian ingredients
Burn time approx 30 mins
Packs sold individually
Customer Reviews
10/09/2019
Karen T.
United Kingdom
Sandlewood Masala
Easy to use, lovely smell and very quick delivery
08/03/2019
Misti B.
United Kingdom
Perfume permeates perfectly
I have always loved that smell of incense that permeates the home and cleanses the air and that's what I get from these and I prefer a smell that isn't too florally feminine.
07/29/2019
samantha m.
United Kingdom
Good purchase
Not used these ones just yet but they smell amazing
06/09/2019
Graham R.
United Kingdom
11/13/2018
Ajay L.
United Kingdom
Sandalwood Masala Sticks or Meditation Magic!!?
As a beginner to meditation I often found it extremely difficult to remain calm and focused for extended periods of time. Frustrated with the practice I decided to take a break from it all, when The Physic Tree somehow presented itself to me, I purchased the Sandalwood masala incense sticks along with the Onyx and Tourmaline crystals and I have achieved the DEEPEST meditative state every time now without fail!!! They've worked wonders for me, so thank you The Physic Tree, you have attained my continued custom and friendship! Namaste.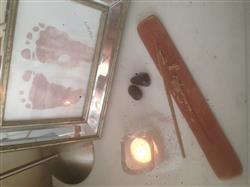 Payment & Security
Your payment information is processed securely. We do not store credit card details nor have access to your credit card information.