Roll over image to zoom in
Description
Amethyst is always purple in colour and comes in many different shapes and sizes.  It is a powerful and protective stone with a high vibration.  It helps to protect against psychic attacks and can enhance the memory as well as assist in deeper understanding when you meditate. 
The toadstools are sold individually and measure approx 4-6cm in height. Colour, pattern and size will vary as each Toadstool is unique.
Customer Reviews
09/03/2021
halle

United Kingdom
amazing!!
The first one i ordered was chipped, although the psychic tree fixed it straight away! they sent out replacements which came the next day!!Bigger than the original! very happy.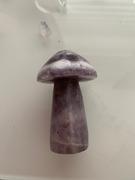 09/02/2021
halle

United Kingdom
Chipped
My amethyst toadstool came chipped becuase was stored with all of my other crystals.
Payment & Security
Your payment information is processed securely. We do not store credit card details nor have access to your credit card information.