Description
Amphibole Quartz healing crystals are amazingly beautiful stones that have beautiful inclusions within their structure, consisting mostly of Limonite which is yellow, Hematite which is a reddy brown in colour, Kaolinte which is white, and Lithium which carries a light pink colouring.
Also known as Red Rabbit Quartz, or Angel Wing Phantom Quartz, these crystals have a close connection with the angelic world. Given the numerous inclusions in these stones, these are multi talented when it comes to healing properties, bringing peace, harmony and confidence, with the hematite inclusions bringing grounding and energy. Limonate inclusions bring self worth and joy, and the pink lithium brings the energy of love and empathy. The Kaolinite associates itself with the crown chakra and not only provides inspiration but is the part that connects mostly with the angelic realm.
Each stone weighs approx 15g. Stones are sold individually and may vary slightly in shape and colour from the stones shown in the image
Reviews
Customer Reviews
08/26/2021
SHEILA H.

United Kingdom
lovely crystals
The crystals are lovely I ordered 3, 2 were a nice size the other was very small a little bit disappointed with that as I had bought 1 each for my Grandchildren who collect them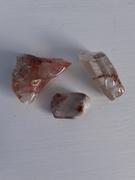 07/26/2021
Kat B.

United Kingdom
Good vibrations
This caught my eye on another site. I looked into it a little more and decided to order some. Was pleased to receive two long and two smaller tumblestones. Holding it felt calming and my mood elevated immediately. Happy with my purchase.
06/01/2021
SALLY P.

United Kingdom
Good service
As usual Psychic Tree delivers what you pay for quickly Thanks