Roll over image to zoom in
Description
Amazonite and Rock Crystal
Part of Bewaters Joy range, this insert is designed to be interchanged with any other insert in the glass range of water bottles.  The Joy range is alive with colour and variety, capturing simple pleasures, aiming to make everything beautiful in a world where water gives us life.
This particular insert contains amazonite healing crystals known for their detoxifying properties and protects against electromagnetic pollution. Its also helps to open the heart and throat chakra enhancing loving conversations.
Each insert comes in a lovely presentation box and are approx. 15cm in height. Note - these inserts are not dishwasher proof and as such should be hand washed only.
Please note that the inserts are only for use with the glass bottle ranges - they are not compatible with the plastic bottles. 
The casing of the insert itself is made of 
BPA free durable tritan plastic
Customer Reviews
Great item
Love this, beautiful. And speedy delivery ⭐⭐⭐⭐⭐
Brilliant add on product - Amazonite
I bought this along with my BeWater bottle (rose quartz inside) to use at work. It easily screws on and off at the bottom of the BeWater bottle. Prior to using it I placed the insert in my palms and focus my energy and intention (or as I like to call it 'programed the crystal'). Once that was done I added water to my bottle and allowed a couple of hours to pass by before consuming. This allowed the crystals energy to infuse with the water. I specificly wantef Amazonite crystals as they work well with my zodiac. In addition I find then helpful when trying to be creative at work. Personally I prefer Sungite for EMF protection as it is has a stronger effect but the water would get murky. However saying that Amazonite does its best to protect me from daily EMF and keep everything in balance. I would recommend this product for any BeWater user.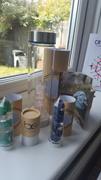 Payment & Security
Your payment information is processed securely. We do not store credit card details nor have access to your credit card information.