Description
Generator Points can be used in combination with other crystals to create an energy grid, opening and aligning whilst clearing the aura bodies and opening energy blocks whilst harnessing positive energy.
Black Tourmaline promotes a positive outlook on life, and can combat worry, anger and fear by providing a sense of grounding to the user
Points are sold individually and due to the natural nature of the crystal, do vary slightly in size,shape and colour, however they are approx 4-5cm in height and 4-5cm in width and weigh approx 125g in weight
Reviews
Customer Reviews
02/17/2022
Jo

United Kingdom
Beautiful!
Beautiful stone! Bought along with tourmalined quartz. Another great experience with purchase from Psychic Tree! Speedy delivery! Highly recommended!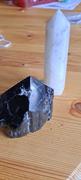 12/15/2021
Jessica

United Kingdom
Seriously saved me from Black magic
I was dealing with a person who was using black magic to try and read my thoughts and posses me, I was experiencing pain all over my body, I couldn't think straight. When I finally received this stone, I placed it in my hands and felt energy so strong it was like multiple electric shocks. Within a few minutes a majority of the pain was gone, and when I placed it on my forehead, the negative thoughts started to disappear. I'm so thankful for this stone. Thank goodness for it. Would strongly recommend for anyone suspicious of black magic being in their life.
11/01/2021
Ing-Mari G.

United Kingdom
Would recommend
Good experience.