Description
We've created a great value pack for Citrine tumblestones, for use in decoration and gridwork. 
Citrine carries the power of the sun.  This makes it a powerful cleanser and regenerator, it provides warmth and energy.  It is also known as The Merchants Stone and attracts wealth and abundance
Each value pack contains approximately 100g worth of crystal
and comes with a guide & organza bag to keep your crystals safe
. Size and shape of the crystals may vary from the picture shown.
Packs sold individually. 
Please note that this is the heat treated variety of Citrine.
Reviews
Customer Reviews
07/05/2021
Susan L.

United Kingdom
Lovely
These stones are lovely. They are of various sizes but are useful as a result. I am very happy with my purchase. Thank you.
06/09/2021
Claire

United Kingdom
Great Value
This was part of a larger order placed on a Friday evening and received well packaged the following Wednesday. The site is easy to use and very informative. I bought the value pack as I hope to create a grid and felt that this was the best way of purchasing multiple stones of one kind. I was pleasantly surprised at the size (average 2cm x 1cm) and the number of stones (12!) received, so already feeling abundant! They're now looking very pretty on my altar in my wealth corner - I would definitely recommend buying crystals this way as they're great value.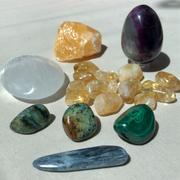 12/03/2020
Aileen M.

United Kingdom
Excellent
Great quality and value