Roll over image to zoom in
Description
This lovely wand is perfect for use in reflexology or massage and is made from Clear Quartz, the master healer stone which has excellent all round healing properties and is used for protection and capturing bad vibrations
This beautifully carved wand has one end rounded and the other crafted into a point. The wand measures approx 7cm in length and 2cm in width
Customer Reviews
Amazing!
Gorgeous crystal and I could feel the energy of it as soon as I held it.
Clear quartz is gorgeous
Really pleased wit my clear quartz, nice to massage with.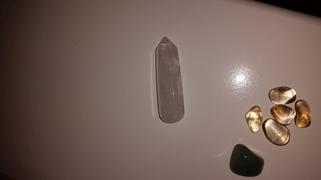 Clear Quartz Crystal
Thank you for this lovely crystal. I keep it with my tarot pack in a pouch.
Payment & Security
Your payment information is processed securely. We do not store credit card details nor have access to your credit card information.