Roll over image to zoom in
Description
Healing Crystal Thumb stones are great for holding in your palm and using them to relax and reduce anxiety. They are also great to hold whilst mediating. This thumb stone is made from Mookaite, a crystal known for bringing out your adventurous side. If you struggle to get up and leave the house, or are always the one afraid to put your hand up or start a conversation first then this crystal will be great for you. It provides a confidence boost that allows you to start conversation and make friends.  
This Thumb Stone is approx 30mm x 40mm x 7mm and has a completely smooth surface for holding. Colour and patterns on the stone may vary slightly from the picture shown
Customer Reviews
Mookaite thumb stone
I just like to collect lovely things..not to use in any healing way.i find I fidget a lot and having something smooth in my hand I find it very soothing to turn it over and feel it getting warm.so I guess it does heal me in a fashion.im very pleased with quality and have received about 30 stones now!thank you.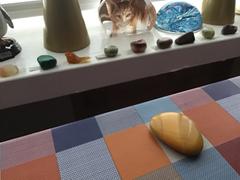 Mookaite Thumb stone
Beautifully patterned stone. Lovely calming energy.
Beautiful Stone
Mine differed in colour to the picture shown, much more red but still high quality with a great energy.
Mookaite thumb stone
Nice size really good colours in it bought it as a christmas present
Payment & Security
Your payment information is processed securely. We do not store credit card details nor have access to your credit card information.