Roll over image to zoom in
Description
Internationally acclaimed oracle expert Colette Baron-Reid repackages the ancient knowledge of the chakras in a modern perspective, blending mystic energy work with Western psychology, to demonstrate how we as individuals create and experience our reality. Lavishly illustrated by Jena DellaGrottaglia, The Oracle of the 7 Energies is inspired by the 7-chakra system. Each of the seven chakras has seven cards of its own, with subjects related to specific elements that support its energetic theme and explain how it applies to your life.
May The Oracle of the 7 Energies guide you to your highest good, support your life's adventures with love and wisdom, and show you the path to co-creating your most meaningful manifestations!
Customer Reviews
01/08/2021
Chlo H.

United Kingdom
Beautiful cards and informative guidance
These are the first Oracle Cards I have ordered and they are perfect! The cards are beautiful and descriptive with a lot of colour and the guidance book is so helpful not only does it give you a great description for each card but it also teaches you a lot about Oracle cards and how to read them, including different methods. I am very happy with the product. Great customer service and I received my order the next day, I highly recommend!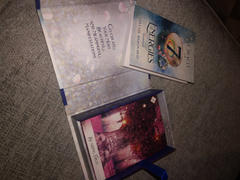 01/01/2021
Tricia B.

United Kingdom
Very Happy!
Lovely item, the cards are wonderful, unique oracle cards. Some beautiful, insightful and accurate readings happening. I use these cards as an aid for personal development. Thank-you. They arrived quickly in excellent condition as promised. Great company, I definitely recommend
12/03/2020
Marcelle A.

United Kingdom
Beautiful design and useful guide
This is my first set of Oracle cards and it's exactly what I hoped. The cards are beautifully illustrated and wide in shape. The guidebook is really helpful too in understanding the purpose of each card. I liked the seven energies system because it's connected with the chakra system and decodable. I've really enjoyed using these as my first set and would highly recommend it. The messages are really encouraging and filled with wisdom.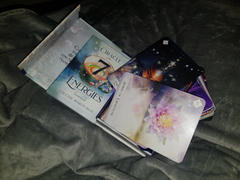 Payment & Security
Your payment information is processed securely. We do not store credit card details nor have access to your credit card information.