Roll over image to zoom in
Description
We have seven main chakras over our body. Chakras are like wheels of energy that allow us to be at our best and keep our energy flowing around our body. But like most things they can get blocked - think of a plughole that over time get blocked up.

We can help keep our chakras unblocked by using a variety of methods (ie. crystals, oils, sprays, meditation). All help in keeping the energy flowing and keeping our internal pathways clear from any bad energy.
This spray has been uniquely designed to help re-balance and unblock the sacral chakra.
You can read more about the chakras and which crystals and oils connect with them by reading our quick reference chakra guide HERE
These sprays come in 30ml bottles.
Please note that these sprays are not intended for consumption and a test patch should be carried out on sensitive skin before use.
Customer Reviews
07/01/2021
Deniz D.

Belgium
Excellent
Extremely effective, relaxing and high quality.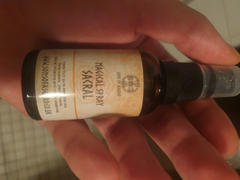 Payment & Security
Your payment information is processed securely. We do not store credit card details nor have access to your credit card information.