Description
Shungite is a black stone made from mainly carbon. The carbon makes it unusually lighter then most other crystals and also gives it a metallic black colour. Shungite is a great purification crystal and also has healing and grounding properties. It can also be used to amplify psychic power and cloaks you from bad energy, specifically electro magnetic frequencies. This is a great display piece, which comes in 2 parts, the base which is a polished slice with a natural edge to it, and a beautifully carved square with a flattened edge enabling it to stand at an angle on the slice, giving it a floating effect
Combined weight of the two sections is approx 600g and measures approx 13cm in width. Cube is 5x5x5 cm. Size and shape may vary slightly from the image shown, notably the slice which has a natural finish.
Reviews
Customer Reviews
08/21/2021
Sam T.

United Kingdom
Size and shape may vary!
Initially very impressed with swift delivery however the base piece was missing. Delighted with the cube, beautiful piece. Swift response to missing query and another base sent out next day however as states in the description, ' Size and shape may vary ' described as approx 13cm in width was actually just under 9cm which is 2/3 the size displayed and gives a different look to the pieces but the cube is very nice.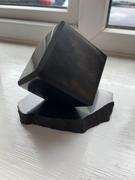 11/02/2020
Khadi S.

United Kingdom
Great crystal
Placed in room as felt stressed and started clenching teeth while sleeping, which made for a disturbing sleep. Placed these stones In the room Instantly felt calm and relaxing and slept without jaw clenching and totally calm and restful REM level sleep. Thanks