Roll over image to zoom in
Description
A practical beginner's guide to Wicca, its traditions, spells and rituals. An accessible, contemporary approach to Wicca, also known as witchcraft, this book shows you how to use it as a healing and positive force. Practice magic with tarot cards, agents, and pendulums; cast love, health, wealth, family happiness, and career spells; and discover which herbs are beneficial when conducting spells and rituals.

Leanna Greenaway and Judika Illes make these life-affirming, ancient Wiccan traditions meaningful and accessible to us today by providing a basic understanding of the key elements of Wiccan practice, including:
Lunar magic
Initiation
Herbs and gardens
Pendulum power
Animal magic
Wicca, Orion Plain and Simple also includes over 25 spells for beginners that range from fertility spells and money spells, to love spells and much more.
Paperback 144 Pages
Customer Reviews
12/08/2021
Gemma K.

United Kingdom
So happy
Extremely pleased, very fast delivery and delighted with what I've seen so far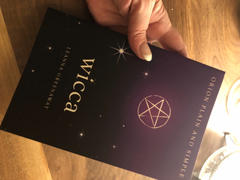 What a great read
So simple and straightforward. Definitely encouraged me to want to learn more
Payment & Security
Your payment information is processed securely. We do not store credit card details nor have access to your credit card information.