Roll over image to zoom in
Description
These beautiful high quality Essential Oil Diffuser bracelets contain 6 Aquamarine stones combined on an elasticated ring with 17 volcanic lava stones, which are perfect for diffusing your essential oils once applied. 
Aquamarine is the stone of courage. It is believed to clarify the mind and unblock the thoughts, encouraging self-expression. It helps clear the throat chakra giving strength to powerfully stand and speak our truth.
The bracelets are elasticated so one size fits all and are approx 19cm in circumference.
Customer Reviews
11/02/2020
Jodie-beth H.
United Kingdom
Good
A tad bit big but overall good!
07/22/2020
Lucy T.
United Kingdom
New customer
excellent experience and loved all of the products
05/01/2020
Liesel D.
Gibraltar
excellent
Very pleased with the bracelet and the service provided by The Psychic Tree.
04/01/2020
Brenda B.
United Kingdom
Really pleased with this
Works really well. Used lavender with it for a headache. Bought 3 more for my children.
10/01/2019
HANNAH B.
United Kingdom
Loved t but shame about the elastic
I absolutely love the stones, the colour and quality is great. After only two times of putting on the oil the elastic stretched quite a bit which made it too loose to wear so I gave had to try and replace it which was tricky and doesn't look as good, it is a shame as the bracelet itself is lovely.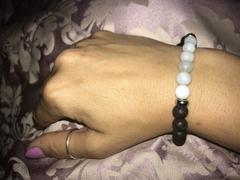 Payment & Security
Your payment information is processed securely. We do not store credit card details nor have access to your credit card information.