Description
These beautiful necklaces make a great gift for yourself or a loved one. Each necklace contains a polished tumblestone healing crystal contained in a spiral cage to wear and feel the benefits all day long. This necklace contains Black Obsidian
Black Obsidian is a powerful cleanser of your aura and has many metaphysical properties that will protect you against negativity. Born quickly out of cooled lava from volcanoes, it has elements of fire, water and earth making it one of the strongest and most effective healing crystals
This stone is great in assisting you to wash away the stress and disharmony that has built up in your day to day life, ridding you of fear, anger and resentment. It is also known to reveal truths, letting you know the answers to secrets and questions you have struggled to find answers for
You can choose from four types of chain:
Black braided cord necklace with Lobster Clasp, in either 40-45cm or 60cm, with each one being approx 2mm in width.
Snake Chain has a Lobster clasp and is silver plated stainless steel and is 18in / 46cm in length, approx 1mm in width
Sizes and shape of the crystal may vary slightly from the picture shown and come inserted in a Spiral Cage. The necklace also comes in a lovely organza bag for safe keeping
Reviews
Customer Reviews
Fantastic Service
Great service quick and efficient
02/22/2022
Sugar H.

United Kingdom
Beautiful Necklace.
I bought this as a gift for a friend, they were absolutely blown away by it. Such a stunning piece. Very speedy delivery. Highly recommended.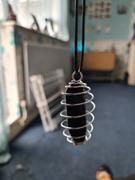 01/31/2022
nicole

United Kingdom
Amazing as always thank you
Great quality and affordable, fast service. Will be back for more soon :)