Roll over image to zoom in
Description
Bloodstone crystals are known as great healers and are particularly good at removing toxins and cleansing the blood. The stone is said to have a positive affect on the immune system as well as heightening intuition and increasing creativity.
Bloodstone is a very grounding stone working with the root chakra, and is great at drawing off negative environmental energies, so in it's rough raw format with its beautiful green colour with red flecks, Bloodstone is a great stone to keep around you
Each stone weights approx 60-80g. Size and shape of the crystal may vary slightly from the stones in the image shown. These crystals are sold individually
Customer Reviews
Great healing energy
I chose to use bloodstone during my chakra meditations, specifically on my root chakra. And i have to say the calming, healing energy i get from this stone is incredible. I swear its even easing my period pains each month, iv seen an improvement in cramps and duration! All the crystals i have ordered from the psychic tree, have such great energies, and are a pleasure to work with :)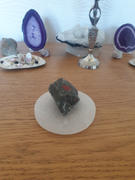 Impressive
Great crystal and wondeful size
Beautiful bloodstone
Love my unique bloodstone raw crystal. It is such a lovely big piece and love the feel of it around me. Smells amazing to. ♥️
Payment & Security
Your payment information is processed securely. We do not store credit card details nor have access to your credit card information.