Description
Bornite healing crystals are stones of happiness and joy and brings a feeling of upbeat-ness to the user. This is a particularly powerful healing crystal as it has the ability to align every chakra and if you are having a bad day, carrying this crystal has the ability to turn your experience around and elevate your mood - essentially turning a frown, upside down!
Each crystal is priced and sold individually and weighs 10-25g. Size and shape may vary from the ones shown in the image
Reviews
Customer Reviews
08/07/2021
Lou

United Kingdom
Can't fault
Brilliant- pretty little stone and next day delivery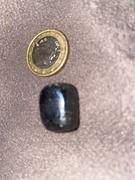 03/04/2021
matt

United Kingdom
way cooler than I was expecting
there weren't many reviews when I bought mine so I was a little wary, but I loved it as soon as I saw it. great shape, cool sheen and very heavy! all round good purchase
02/01/2021
Paul M.

United Kingdom
Music from Minerals
"Crystal Sets" are the very first type of radios used in the domestic setting, and appeared in England around 1920 shortly before the BBC started broadcasting, in fact. The crystal fulfilled the same function as what is now called a diode (a sort of one way valve for electric currents) and most of the sets used a mineral called Galena. Recently, however, I acquired a set that uses TWO different crystals: Zincite, and BORNITE - hence the purchase. It worked out well, thank you.