Roll over image to zoom in
Description
This bracelet is lightweight and a great item to wear all day. Carnelian is said to stimulate the metabolism and restore motivation as well as stimulating creativity and concentration
You can choose between the bracelet only, or you can add a crystal guide and bag
The bracelet is approx 6cm in diameter - size and shape may vary for that pictured. The bracelet itself stretches to make it easy to put on and off.
Each bracelet sold individually
Customer Reviews
Lovely colour
Beautiful chip bracelet lovely colouring, I am really pleased, I suspect once I get out and about the elastic won't last long. But that's a hazard of these bracelets.
05/19/2020
Carole Q.
United Kingdom
Carnelian
Quick delivery and easy ordering, but disappointed with the carnelian bracelet it was more brown and white than orange, I know there is variation in colour but to this extent is very disappointing. I would rather pay more and get the colour as advertised.
05/01/2020
Jacqueline M.
United Kingdom
Very pretty but too delicate
I loved this bracelet very much as it was pretty however the elastic severed within a week. I contacted the company who very kindly sent a replacement but unfortunately the elastic on that bracelet also severed within a week! I can only guess that the rougher 'chips' in the bracelet rub against the elastic and wear it out leading to breakage. I kept the stones as they were pretty but unfortunately cannot wear in intended form. Such a shame!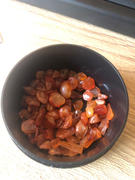 12/02/2019
Sean
Germany
Not actually a fan of these
I have purchased a few chip bracelets form PT and so wanted to get some carnelian ones after the stone was recommended to me, so I purchased two (for myself - one for each wrist). There was a substantial difference between the two. One bracelet was very chunky and the stones were considerably darker than the others. The other had fewer stones, was much lighter. The chunkier one broke within a week whilst I was out and about. So was a little disappointed by this one in comparison with the others as it didn't even last a week. Not sure if it was just unlucky with this one, but others I have purchased have last for much longer and have yet to break so disappointed in this one I'm afraid..
10/08/2019
Sam T.
United Kingdom
Another wonderful purchase
Really pleased I bought this. Another great experience buying from The Psychic Tree.
Payment & Security
Your payment information is processed securely. We do not store credit card details nor have access to your credit card information.