Description
Cleanse the room of your choice with this amazing homemade candle, that comes infused with Carnelian crystals, and is scented with the fresh and delightful smell of sage and sea salt fragrance oils
The combination of crystals and essential oils have been carefully selected to work together to cleanse your room of unwanted energies and bring a fresh and clean atmosphere to your room. The candle comes beautifully presented in a gift box and has a guide insert explaining why we have chosen each crystal and scent. Each candle has a burn time of 12-15 hours and once you are finished with the candle, the Carnelian crystals can be kept as part of your crystal collection.
Reviews
Customer Reviews
01/15/2022
Joan W.

United Kingdom
Wonderful aroma
To be honest the candle has proved to me very tricky as the two stones keep crushing the wick so I have to prise them out and start again. It has happened each time I have lit the candle. It's a shame as it smells wonderful and I hope it is helping my room and myself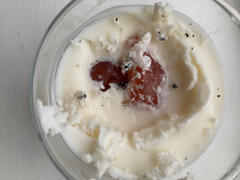 01/12/2022
Lesley M.

United Kingdom
Lovely candles
I've purchased five different Crystal candles. They look and smell gorgeous. I'm still burning my first candle which has so far lasted about 25 hours and still going and you get to keep the crystals.
01/10/2022
Rebekah B.

United Kingdom
Sage and Salt Crystal Candle
Great servie and lovely andle. One slight problem as thee wax melts the crystals fall onto the wick burying it and putting it out. So you re regularly digging them out with a knofe