Description
All the great qualities of Clear Quartz in this beautiful ball pendulum.  
A great tool used for divination and will help you get the maximum out of your readings. 
Clear Quartz is a great healing crystal and amplifies energy making messages from your guides easier to come through. 
Reviews
Customer Reviews
01/23/2022
Katherine B.

United Kingdom
Clear pendulum
It has some chips on it but works OK
01/06/2022
Mrs J.

United Kingdom
My beautiful Clear Quartz Crystal.
I was very pleased with my clear quartz crystal. Just so pretty to look at. It will get a lot of use, I'm sure, thank you.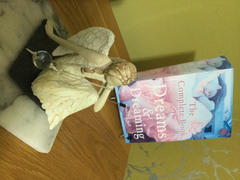 08/30/2021
Marisa D.

United Kingdom
Admirable
The pieces are cared. Well preserved. Done and lapidate perfectly as water would. I am amazed with the smudges as its noticable the herbs ate not old neither used before. I am in love with this store. Besides the pendulum quartz is literally a crystal ball useful for clairvoyant work and mediums like myself