Description
Points can be used in combination with other crystals to create an energy grid, opening and aligning whilst clearing the aura bodies and opening energy blocks whilst harnessing positive energy. A single crystal point pointed away from the body draws energy off, and pointed inwards draws energy in
Quartz is a master healer stone, giving it excellent all round properties. It is often used to increase healing energy and is used for protection and capturing bad vibrations. This is the clear version of the crystal and is known as the stone of power and amplifies any energy or intention.
Points are sold individually and due to the natural nature of the crystal, do vary slightly in size, shape and colour. 
Reviews
Customer Reviews
Clear Quartz Beauty
I have received a very beautiful free standing clear quartz point. Very pleased. Prompt service and delivery as usual!
04/07/2022
Gail H.

United Kingdom
Nice piece
Lovely piece and a tidy 102g in weight and just over 80mm tall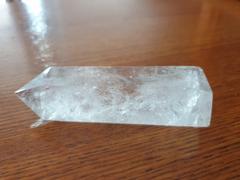 03/23/2022
Jackie P.

United Kingdom
Crystal clear
Will be using today with crystal healing therapy.