Description
This teardrop pendant is lovely and contains the healing crystal Clear Quartz (The Master Healer). This beautiful design is simple and hangs beautifully around the neck. The teardrop is smooth and sleek in its shape and appearance.
Quartz is a master healer stone, giving it excellent all round properties. It is often used to increase healing energy and is used for protection and capturing bad vibrations. This is the clear version of the crystal and is known as the stone of power and amplifies any energy or intention.
This pendant comes with a silver plated chain that are approximately 46cm long. The teardrop itself is approx 35mm in size. Sizes and shape of the crystal may vary from the picture shown.
Reviews
Customer Reviews
02/01/2022
Pauline C.

United Kingdom
Clear Crystal Quartz
The stone is beautiful unfortunately I only had it 3 days and the gold chain went black so disappointing there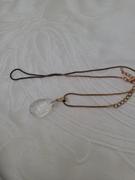 01/30/2022
Paula H.

United Kingdom
Clear quartz teardrop
Absolutely beautiful. Really pleased
01/12/2022
Emma A.

United Kingdom
Perfect pendant
I love my pendant. I have swapped out the chain because it was too short and not the greatest quality but the pendent is perfect and for the price, good value I think