Description
Healing Crystal Worry stones are great for holding in your palm and using them to relax and reduce anxiety. They are also perfect to hold whilst meditating. This worry stone is made from Clear Quartz which is one of the most powerful crystals for healing and amplifying energy. It is a good crystal for balancing and also unblocking energy
This worry Stone is approx 30mm x 40mm x 6mm.
Reviews
Customer Reviews
02/23/2022
Gail K.

United Kingdom
Arrived badly scratched, dirty and damaged
Unable to use - was in awful condition when it arrived and did not have any protective packaging around the stone. So disappointed and had to throw it away as it was so dirty.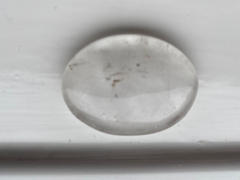 07/13/2021
Billie H.

United Kingdom
Worry stone
Great! I ordered one for my husband also.
07/05/2021
Denise S.

United Kingdom
Love it
Using it to amplify the power of other worty stones I have.