Roll over image to zoom in
Description
Candle magic is one of the simplest forms of spell casting in which the caster decides on an intention, visualizes the end result and focuses intent or will to manifest that result.
These candles are orange and are aimed towards Confidence. The candles are sold individually, or if you want a complete pack you need to order 12 individual candles.
When using your spell candle in your ritual or spell, set your intention first by writing your aim down on a piece of paper and place near your candle when burning. You can use essential oils to anoint your candle for your spell if you wish, and a good oil to use for spells relating to confidence are Bergamot or Cypress which you can find here.
Rub the oil into the candle - a good tip is if you are using the candle to manifest something, the candle should be coated in oil from the top to the middle, and then from the bottom to the middle - if you are using the spell candle to banish something, then put the oil on from the middle to the top and then the middle to the bottom. If you are using herbs in your spells and rituals you can apply these to the candle using the same rule.
When you are ready, light your candle and state your intention aloud and then look into the flame and meditate on your desire
Candles are 10cm in length and 1cm in width
Customer Reviews
Nice candles
Lovely colour for confidence candle spell. My spell is working so far. Hope it brings me my man forward with confidence
Confidence candle
The candles arrived in good order, I was expecting to receive four packs of ten candles, I think possibly I got my signals crossed. I was expecting therefore a higher bill.
Small and Orange
These are not yellow like the picture, these are full on orange. This wasn't a downside for me because I was looking for an orange candle anyway but if you were looking for a yellow candle choose the success candle. These were also smaller than I expected, I need to find a new candle holder however seem accurate to the description, so pay attention to the size. Otherwise, happy.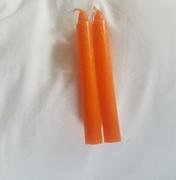 Cute
Great little candle. Not used as of yet but looks pretty and have used another colour which was great.
Confidence candle
Looking forward to using this piece
Payment & Security
Your payment information is processed securely. We do not store credit card details nor have access to your credit card information.