Description
This beautiful Double Angel Wing hanging decoration is the perfect addition to your home and is a great way to ensure your guardians are always with you.
The wings are suspended by a lovely ribbon and weigh approx 24g. Height is 7cm, width is 6.5cm, Depth is 1cm
Made from resin
Reviews
Customer Reviews
01/31/2022
Yael H.

United Kingdom
Beautifully made
Lovely item and ticked all the boxes favourably. Item was delivered very quickly.
01/20/2022
Keshia H.

United Kingdom
Love it
Well made Angel wings, went perfectly on my alter table by my 2 babies pictures, who didnt make it into this world, this is a lovely gift for them in the after life for protection and guidance. I would defo recommend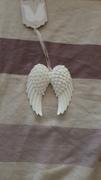 12/23/2021
Claire M.

United Kingdom
Unsatisfied
At the moment, am still waiting for my order to be delivered. Otherwise, I'll be asking for a full refund.