Description
Pyramids have been a sacred shape for thousands of years, dating back to ancient Egypt as they are said to resemble the rays of the descending sun. This pyramid is carved from Fluorite and using it's shape will harness high vibrational energy for amplifying your intentions
Fluorite is one of the most sought after healing crystals in the world, due to the variety of green and purple colours and because of it's almost translucent beauty. These rough healing crystals are Fluorite in it's natural form and it's powers as such will protect you against harm. 
Fluorite is known to hoard off negative energies, and purify toxins from your body as well as increasing intuition and confidence.
Pyramids available in 3cm width and height.
Reviews
Customer Reviews
11/19/2021
Lynda B.

United Kingdom
Love it!
This is a small but significant gift for a friend who has yet received it. It's just what I wanted & I'm sure she'll love it
10/19/2021
Chanice S.

United Kingdom
Part of a large order.
Quick delivery and arrived in great condition, as described on site and very good weight/energy.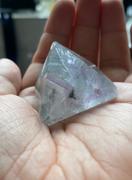 09/23/2021
Paige C.

United Kingdom
Very pleased!
I purchased the fluorite pyramid Saturday, was sent out Monday and arrived first thing Tuesday! Absolutely gorgeous colours and brilliant quality; wrapped safely so no chips or damage. Definitely a returning customer!