Description
Healing Crystal Worry stones are great for holding in your palm and using them to relax and reduce anxiety. They are also perfect to hold whilst meditating. This worry stone is made from Fluorite which is used for absorbing negative energy and eliminating stress. It is also said to increase concentration powers and as such is often used as a learning aid. It also encourages positivity and boosts self-confidence, as well as having the effect of increasing balance and co-ordination
This Worry Stone is approx 30mm x 40mm x 6mm and has a beautifully carved indent for holding. Colour and patterns may vary from the picture shown and due to the nature of Fluorite, each worry stone can have heavier purple patterns than the one in the image shown. The current stock has a green hue.
Reviews
Customer Reviews
11/30/2021
Michele S.

United Kingdom
Beautiful Stones
I bought about 9 stones in total. All were good quality, and delivery extremely fast which is great, but just a little gripe. Non were labelled, and so I had to go on the website to id them. Some are different to illustrations so this was not all plain sailing. It would've been nice too, just to have a printed card with the qualities of each stone. I printed this off in the end myself, as these were gifts chosen to suit the recipients.
08/22/2021
Tara G.

United Kingdom
Fluorite
Beautiful worry stone. The first one arrived with a crack but Psychic Tree sent a replacement. Beautiful. I've wanted fluorite for ages!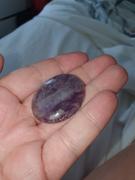 Powerful
This crystal is amazing for grounding, I am really feeling the vibe of this crystal, keeps you at a good point wether you're holding it or meditating or even just have it in your pocket, I reccomend fluorite if you're at stressful point in your journey