Roll over image to zoom in
Description
This kit has been designed to provide you with everything you need to make your own fully interchangeable healing crystal necklace.
You have a choice of chain or rubber cord and also a good selection on healing crystals to get you started, so you can start every day with a different pendant!
This kit contains:
1 x Black Rubber Cord
1 x Silver Snake Chain
2 x Silver Spiral Cages for Tumblestones 
6 x Selection of Tumblestone Healing Crystals 
The six crystals chosen for this pack are:
Rose Quartz (Inner Peace and Unconditional Love)
Black Obsidian (Cleansing)
Citrine (Abundance)
Pink Banded Agate (Energy Balancing)
Amethyst (Protection)
Hematite (Grounding)
Snake Chain: 
18" in length
1.2mm chain width
Made from Steel and Silver plated
Rubber Cord:
Please note a small pair of pliers are needed to crimp the end of the rubber cord once the chosen cage has been added. The snake chain will only fit the medium size cage
Customer Reviews
Necklace Kit
A gift for my daugher, she loves it and changes the stones in the necklace cages to match whatever she is wearing.
Lovely crystal necklace kit.
Lovely set of crystals, creating options for several different pieces of jewellery. I am sure I will be buying more of these as presents
The crystals were too big to fit in the cages
I received my parcel and was really looking forward to the kit unfortunately all the Crystals were to big for the cages I was supplied with, Two of the crystals were nearly three times the size of the cages I was given and wouldn't even fit into a larger cage I received from another product I brought. I have emailed to resolve the issue but not yet had a response so I cannot comment on the customer service.
Great!
I couldn't decide which crystal necklace to buy and came across this kit. This was definitely the a great choice so i can choose from a variety of stones. Just the right size and also really like the necklace length.
Healing crystal jewellery making kit
I ordered this after seeing an ad on Facebook about the Obsidian crystal. I bought this as a gift and the recipient loved it. She changes the crystals to help her mood everyday. I purchased the black Obsidian bracelet and feel its really working. Easy to order and didn't have to wait to long for delivery.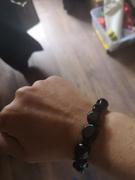 Payment & Security
Your payment information is processed securely. We do not store credit card details nor have access to your credit card information.