Roll over image to zoom in
Description
We've taken the absolutely must haves and some of the most popular crystals and combined them into an amazing pack to help introduce people to the healing powers we know and love
This beginners kit comes with a printed guide book detailing the properties of the crystals and contains the following polished tumblestones:
Amazonite 

- known for its detoxifying properties and protects against electromagnetic pollution. Its also helps to open the heart and throat chakra enhancing loving conversations.

Rose Quartz - Known as the stone of unconditional love, Rose Quartz is an inspiring, nurturing and calming crystal that promotes bonding, affection & attraction

Sodalite- Eliminates mental confusion and calms the mind, promoting balance and reducing anger
Clear Quartz - Known as the "Master Healer" and amplifies the energy of other crystals
Carnelian - Restores vitality and motivation and stimulates creativity
Gold Tigers Eye - Helps us to see our talents and abilities & helps resolve personal faults. A stone of courage
Red Jasper - Gently stimulating stone that grounds and helps to rectify unjust situations. Helps to see where problems exist and provides insight
Citrine - A powerful cleansing and regenerating stone, known as "The Merchants Stone" and attracts wealth and abundance
Amethyst- Good choice for meditation. Brings wisdom, tolerance and is a natural soother with strong healing and cleansing properties

Black Obsidian - Protective stone that can shield you from outside negativity
Hematite - a natural form of iron, is a strongly grounding and protective gemstone. With it's beautiful dark shine, this stone is ace at absorbing negative energy and reducing stress in times of worry
Aventurine - a positive stone of prosperity. It helps mental healing and protects against electromagnetic pollution that can be created through everyday electronic devices. As it assists in mental healing it is a good crystal to calm anger and irritation 
All the crystals come in a lovely organza bag to keep them safe. Size and shape of crystals may vary slightly from the ones in the images
Customer Reviews
08/02/2020
Nina B.
United Kingdom
08/01/2020
Devina R.
United Kingdom
Healing Crystals
Beautiful and just stunning
08/01/2020
Kimberly L.
United Kingdom
Sized perfectly
Love the stones. Amazing sizes.
08/01/2020
Tony B.
United Kingdom
Fast receipt
Received within two days very good!
07/05/2020
Victoria L.
United Kingdom
Lovely set, but strange Carnelian!
I think these crystals are a lovely set and they are not tiny tumble stones, so I am very happy with my purchase. However, I did knock a star off because the piece of Carnelian in the set had a hideous cluster of strange things that looked like a cancerous growth, or a weird skull! I have added a photo... I do have a rotary tool and I have attempted to remove it, because I just can't live with how **** it is. Overall though, I am very happy with the fast delivery and rest of my order.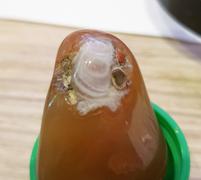 Payment & Security
Your payment information is processed securely. We do not store credit card details nor have access to your credit card information.