Description
Points can be used in combination with other crystals to create an energy grid, opening and aligning whilst clearing the aura bodies and opening energy blocks whilst harnessing positive energy. A single crystal point pointed away from the body draws energy off, and pointed inwards draws energy in.
Lapis Lazuli is great for using in meditation.  It helps open the third eye and balance the throat chakra.  It stimulates enlightenment and enhances dream work, psychic abilities and stimulate spiritual power. 
Points are sold individually and due to the natural nature of the crystal, do vary slightly in size, shape and colour.
Reviews
Customer Reviews
02/16/2022
Rebecca F.

United Kingdom
Lapis Lazuli Free-Standing Point
A stunning piece. Quick delivery and well packaged during transportation. Excellent service from The Psychic Tree, again.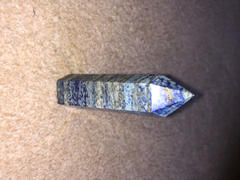 02/01/2022
megan

United Kingdom
lapis luzuli point ( 90-120g)
great crystal, thanks:)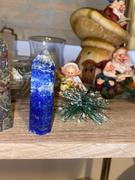 01/19/2022
Ria M.

United Kingdom
Pretty <3
Really lovely but I don't think I was sent the right size as it's really small and I ordered the 90g - 120g