Description
Leopard Skin jasper is said to bring strength and vitality to the user, whilst keeping negative energies away. It is also said to be a crystal that attracts positive people to the user who will help personal growth
This crystal is a powerful protection stone and is known to promote harmony in your life whilst reducing chaos
Each stone weighs approx 11g. Size and shape may vary and are sold individually
Reviews
Customer Reviews
05/28/2021
Heather

United Kingdom
Leopard skin jasper.
Another beautiful jasper. The variety of colours in these stones is mesmerising. And the patterns so captivating. Stunningly beautiful stones. Generous size, beautifully polished. Excellent value. Speedy delivery. Thank you.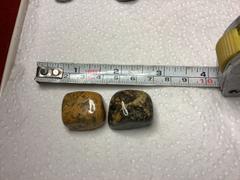 08/07/2020
HQ

United Kingdom
Leopard
Just stunning , love this stone ! Great and powerful
07/04/2020
Tis F.

United Kingdom
Great Jasper!!
Fabulous! Such an eye catching piece, that my partner who cares little for gemstones told me he wanted it! I told him "no"! It's mine!!!