Description
This is a 30g bag of loose Californian White Sage which is perfect for when you don't want to burn a sage stick or wish to use loose sage as part of a ritual. The pack comes with a small shell for burning the sage and collecting the embers
CLICK HERE TO DOWNLOAD YOUR FREE SAGE SMUDGING GUIDE
If you are unfamiliar with the practice, smudging your sacred space, your home or office, crystals or even your body with sage is effectively doing a deep metaphysical cleanse and can reduce stress. Native American tribes were known to use sage for multiple purposes such as healing and spiritual house cleansing to remove negativity.
Reviews
Customer Reviews
01/11/2022
Wendy

United Kingdom
Great service
I ordered this sage yesterday and it arrived today… Wow. The shell is bigger than expected but I'm not disappointed, the quality of the safe looks excellent. Many thanks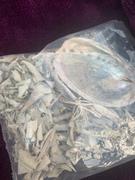 11/27/2021
Mark G.

United Kingdom
White sage.
Loose white sage may be a little awkward compared to using it bound up in smdge sticks, but burnt loose in the shell it produces a good volume of smoke with a pleasing aroma. The pack arrived the very next day and was well packed. I cannot fault either the service or the product.
09/06/2021
RAYMOND H.

United Kingdom
Crushed too dust
Very disappointed It came in padded envelope, totally distroyed. My previous order had lovely sprigs and burned very well . I am not pleased with this package.