Description
Nguni Jasper comes from South Africa and is named after a variety of cattle native to the region due to the similar patterning on the stone. Nguni Jasper is a particularly calming and peaceful stone and brings balance to the users emotions, ensuring they feel grounded and connected to the Earth. This crystal is also said ward of evil spirits and protect the user from danger
Each stone weighs approx 15-20g. Size and shape may vary.
Stones sold individually
Reviews
Customer Reviews
01/11/2022
kayleigh g.

United Kingdom
Blown away, really impressed and thankful for the crystals I've purchased, better than a lot of shops I've visited, great quality, I'll definitely be making future orders
05/28/2021
Heather

United Kingdom
Nguni jasper
Deep rich dark chocolate colour in my stones, with creamy blotches. Lovely. Highly polished, delightful to hold and lovely markings to gaze into. Not huge, but very pleasing to hold. Excellent value. Speedy delivery.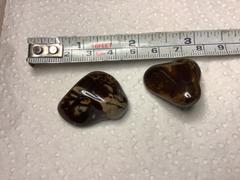 03/28/2021
Anonymous

United Kingdom
Xx
As someone who suffers with mental health issues. Someone with emotions EVERYWHERE. I need balance. So I'm hoping this will really help me. Not yet used it but just the look of it is calming. I do get confused between this and mugglestone. That's my own fault for not buying information books‍♀️ So here's a picture of my collection from this order because I'm not joking. I don't know which is which ****