Roll over image to zoom in
Description
This Opalite cone pendulum makes a great divination tool. Opalite healing crystals are known to increase your personal power and boost self-esteem, enabling you to unleash your inner strengths. It is a great crystal for meditation as it enables you to open up your 3rd eye, bringing a sense of intuition and is great for communicating with spirits.
Pendulums are approx 4-5cm in length and weigh approx 15g, with a chain measuring approx 18cm
Customer Reviews
07/01/2020
belinda w.
United Kingdom
Pendulum
I love the psychic tree n have ordered many products I already have a couple of pendulum but was looking for another n I'm very pleased with this one will definitely be ordering again thank you
06/01/2020
Holly H.
United Kingdom
Beautiful, Working & Easy to use
It arrived quickly. I am not new to using a pendulum but it is easy to use and it seems to want to work with me. It's a very beautiful stone I went for this one in particular because my birthstone is an opal and I found myself drawn to it. One thing I have noticed is if you are using a pendulum for divination take off any smart watch you have as I wear an Apple Watch and have found this interfered with my pendulum and my results I was getting.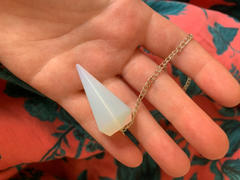 05/01/2020
mandy m.
United Kingdom
Opalite pendulum
As always, excellent quality item. Very reasonable prices. Quick delivery.
04/01/2020
Demilee T.
United Kingdom
Pendulum
Amazing experience and accurate answers woukd fully reccomend!!
04/01/2020
Laura F.
United Kingdom
Opalite pendulum
Really pleased and happy with this, its real guanine and authentic and it really works!
Payment & Security
Your payment information is processed securely. We do not store credit card details nor have access to your credit card information.