Description
Peridot is known to open the users heart to joy and laughter, whilst alleviating jealousy, stress, anger, greed and guilt. Peridot healing crystals have the power to drive away the forces of darkness and repel evil.
The bracelet is approx 6cm in diameter - size and shape may vary from that pictured. The bracelet itself stretches to make it easy to put on and off.
Each bracelet sold individually
Reviews
Customer Reviews
04/17/2022
dr.bill thompson
do you make bigger olivini bracelets?
great, arrived quickly and is fine as advertised, no bad stuff
03/10/2022
Theresa

United Kingdom
Lovely
I ordered 3 stone chip bracelets and absolutely love them all ❤️ So amazed that they arrived less than 24 hours after I ordered them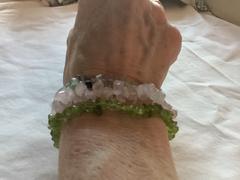 02/01/2022
Jane U.

United Kingdom
Nice stones
A good fit and. Nice colour