Description
If you want to let go of the bad things and negativity and make changes for the better then this crystal pack has been made to assist.
This pack includes 1 x Rough Aventurine, 1 x Moonstone Tumblestone, 1 x Amazonite Tumblestone, and 1 x Red Tigers Eye Tumblestone and comes with a printed guide explaining the various properties of the crystals and instructions on how to get the best out of your pack
Alternatively you can buy just the crystals by selecting them from the drop down menu, and downloading our free guide which you can print out at home to keep instead
CLICK HERE TO DOWNLOAD YOUR FREE POSITIVE CHANGES PACK GUIDE
Aventurine is a great crystal to overcome feelings of self doubt, and is known for attracting new opportunities which when looking to make positive changes to your life is invaluable. A real confidence building crystal it also brings optimism and abundance to the user
Moonstone is the stone of 'New Beginnings' and so is perfect for this pack.  It helps to calm emotions so you are able to think about situations more rationally. It enables us to promote and use our own intuition which also makes it great to help aid our psychic abilities too.
Amazonite is a crystal that is great for providing belief for you in your own decisions.  It enables you to review problems from all angles and therefore making good decisions and changes where required. 
Red Tigers Eye has been chosen as it is great at providing motivation.  So all the crystals put together help you clear clutter, make positive changes and maintain great motivation to see the changes through providing you with the best outcomes going forward.
Reviews
Customer Reviews
Not received!!!
Easy to order, quick to dispatch but didn't receive the item
04/06/2022
Katrina R.

United Kingdom
Great set
Great size crystals for me, Good price, lovely packing. I wanted a positive change crystal & I found this website that sell a set It's great that you can, get a cute little guide book to tell you about the crystals to keep.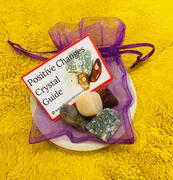 04/03/2022
rahael M.

United Kingdom
Made a big difference
I've always struggled with negative thoughts about myself and low self esteem so I decided to make a change I've felt positive energy has been increased since having these and smudging my home I managed to go into a interview with confidence and belief in myself and I got the job!