Description
Quartz Point but in a keyring so you can carry it on you all day. 
Quartz is a great all round crystal as it contains every colour of the spectrum.  Being a point is also helps draw energy away from the body when pointed away and also channels energy in when held close to you.
Approx 40mm and 120g
Each item sold individually
Reviews
Customer Reviews
08/08/2021
Nadine T.

United Kingdom
Love it
Smaller then expected but still lovely.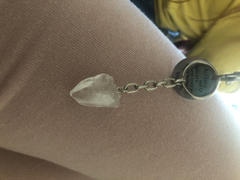 07/31/2021
Lorraine G.

United Kingdom
Disappointed
I've been ordering these for a good few months now for my craft projects but recently they have been arriving smaller and bad quality crystals. I understand being crystals they all come in their natural state but I am unable to use them anymore as they don't look very nice quality, so unfortunately I may not be ordering any more
03/02/2021
Phoebe H.

United Kingdom
Excellent
Orders came quickly and in great condition. Very pleased.