Description
Red Banded Agate healing crystals are great stones for centreing and grounding due to their association with the root chakra. Using this stone aids a connection with your physical body and can make you feel healthy when feeling unwell. A good stone for determination and gaining courage and strength when needed most. Red Banded Agate also is said to increase energy and combat lethargy
Each stone weighs approx 15-25g. Stones are sold individually and may vary slightly in shape and colour from the stones shown in the image
Reviews
Customer Reviews
11/13/2021
Anya C.

United Kingdom
Great
Exactly what I expected but a bit more dull than the picture
08/07/2021
Lou

United Kingdom
Amazing service
Very brown with hints of red and grey. Lovely little stone I will be carrying on me. Arrived next day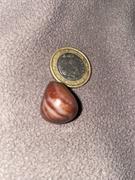 06/01/2021
Strangeway R.

United Kingdom
Red Banded Agate Crystal
I love my tumblestone, it's a perfect size to hold in my hand. Great for centering and grounding and for gaining courage and strength when you need it most.