Roll over image to zoom in
Description
This bracelet is lightweight and a great item to wear all day. Rhodonite is said to be a balancer and a stone of compassion, and is especially good at clearing away scars and emotion from the past. It is also known to nurture love by stimulating and clearing the heart chakra
The bracelet is approx 6cm in diameter - size and shape may vary for that pictured. The bracelet itself stretches to make it easy to put on and off.
Each bracelet sold individually
Customer Reviews
07/30/2020
Lisa
United Kingdom
Pretty Bracelet
A very pretty, delicate looking bracelet. On first look it does not appear pink however once wearing it, you can pick up the delicate pink hues and I absolutely love it.
Not pink
I ordered this bracelet, and upon speedy delivery, i opened the package. The bracelet wasnt a pretty pink colour like pictured, but a sandy soft of colour, and made me wonder if it was even rhodonite. The string started to flake off and wilk soon break. I love this bracelet nonetheless, and the string doesnt matter to me, as i only bought it for the crystals. Im still not hugely convinced that all the crystals are rhodonite, but theyre still nice and i like it.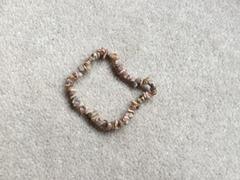 06/01/2020
Louise H.
United Kingdom
Rhodonite bracelet
Lovely bracelet, good quality and fits well.
08/10/2019
Lucy L.
United Kingdom
Light and easy to wear
Beautiful bracelet. Good value for money. Very prompt delivery and well packaged. Thanks very much!
08/03/2019
Mrs G.
United Kingdom
Speedy delivery
Lovely bracelet. Excellent service.
Payment & Security
Your payment information is processed securely. We do not store credit card details nor have access to your credit card information.