Description
Rosewood essential oil is extracted from the woody matter of the rosewood tree with the help of steam distillation. This great and versatile Essential Oil has many benefits including relieving depression, headache and toothache relief, works as an antiseptic, is a natural deodorant, works as an aphrodisiac, boosts memory, and can reduce nausea.
This is a 10ml bottle of 100% pure Rosewood essential oil, sourced from Brazil. Rosewood, like most others can be mixed with a base or carrier oil, or you can add a few drops to your bath water, or to a pillow or tissue. Great for use with either an air diffuser or a bracelet diffuser too.
Reviews
Customer Reviews
07/29/2021
Patricia B.

United Kingdom
Excellent
Love the oil .... has a gentle lavender smell ? I didn't expect this. I was expecting a more Rose aroma ... I am naive to the fragrance Rosewood Oil should have ...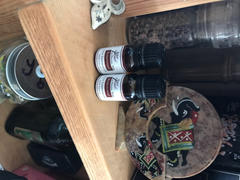 Beautiful scent!
this oil has worked miracles for my mood swings and my daily stresses, just a drop or two in my baths really helped any mental strains I've been having! Definite recommend for anyone who is in need of relaxing
Fantastic!
Super quick delivery, very well packaged & pleasantly surprised! I ordered 4, the Bottles are full to the brim (so great value!) but the bottles themselves don't leak and hold the product really well VS others I've tried in the past. Great quality oils that I'm thoroughly enjoying already - thank you :)