Roll over image to zoom in
Description
We have carefully selected the crystals that go together to help you sleep.....
This pack contains 2 x Amethyst tumblestones, and 1 of each of the following tumblestones; Clear Quartz, Selenite, and Hematite. 
We have provided a free downloadable reference card for you to print out and keep with your crystals, or alternatively using the drop down you can upgrade your pack to include a small guide book with details about the crystals and instructions on how to get the best from your pack.
CLICK HERE TO DOWNLOAD YOUR FREE SLEEP WELL PACK GUIDE
Amethyst brings about calming and soothing energies which help you to relax, an is known as the "one for all" crystal.
Selenite is the best crystal for insomnia.  It provides a protective energy which enables stress to release whilst you sleep helping you feel rejuvenated when you awaken. 
Hematite is great at grounding and helping you to come to terms with learning experiences.  This means that when you naturally file your daily information whilst you sleep Hematite will assist making this process easier and therefore creating a deeper sleep.
The Clear Quartz is used to amplify the energy of the other crystals and also ensure pleasant dreams.  Keeping it in the same bag with the other crystals will enhance the properties. 
Customer Reviews
10/01/2020
KAREN W.
United Kingdom
Purchased as a gift
Purchased as a gift and well received
09/12/2020
Sam
United Kingdom
Beautiful
I have just received my sleep pack crystals and weight loss crystals haven't yet tried them. I thought they would be small but they are not. Can't wait to try them and see if they help me as I'm an insomniac and have a lot of trouble sleeping for yrs. I've tried loads of things but came across this pack and thought I'd give it a try after reading the reviews as was skeptical. Time will tell, I'll be logging my sleep patterns etc to see the difference these crystals bring in to my life. Ive never tried crystals before, I heard from my friend about them and how they help her. So I've been wanting to try them for ages but just didn't know what to expect. They are worth the money as they not too expensive and the fact that there are certain bundles available does help massively. Once I've tried them for a while, I will post another review about my feedback :) Thankyou to The Psychic Tree.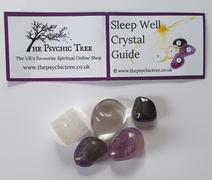 09/07/2020
Lianne W.
United Kingdom
I sleep well with these crystals
These items really help me sleep. I found all my items from the psychic tree great value for money and every different items are lovely
09/01/2020
Jodi K.
United Kingdom
Crystal pack
Beautiful to add to my collection
08/07/2020
Audrey C.
France
sweet dreams <3
Never slept so well since I have these crystals <3
Payment & Security
Your payment information is processed securely. We do not store credit card details nor have access to your credit card information.