Roll over image to zoom in
Description
Snakeskin Jasper has beautiful swirls and scale like patterning around the crystal, and is linked to the Earth element. It is a stone that helps the user embrace change, much like a Snake can change it's skin, and will help guide you through new chapters in your life. 
It is also known to bring a sense of peacefulness through this change and is a stone of protection and courage.
Each stone weighs approx 14g. Size and shape may vary and are sold individually
Customer Reviews
07/17/2020
HQ
United Kingdom
Snakeskin jasper
Such a remarkable colour and feel to this gem. Beautiful to look at . Hope it does the job. TY. ♥️.
05/10/2020
pat b.
United Kingdom
stones
good I collect jasper and I find you have the newest stock, thank you x
10/08/2019
Julie H.
United Kingdom
Adore this stone
Incredibly beautiful, good size and shape and it's easy to work with.
Amazing energy
I ordered several different stones & this was one that I immediately felt a really good connection with. I can feel its clearing energy & it seems to bring clarity & focus as well as grounding & opening my crown chakra at the same time. Excellent value for a good sized piece & great service. Glad I discovered The Psychic Tree!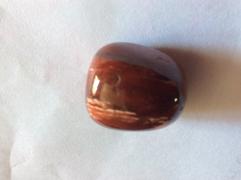 Payment & Security
Your payment information is processed securely. We do not store credit card details nor have access to your credit card information.