Roll over image to zoom in
Description
A beautifully speckled stone that provides balance for mind, body and spirit, Snowflake Obsidian helps you recognise and release "wrong thinking" and alleviate stress. Iron and other transition elements may give the obsidian a dark brown to black colour. The snowflake element comes from radially clustered crystals of cristobalite that are captured in the glass.
Each stone weights approx 4-10g. Size and shape may vary.
Stones sold individually
Customer Reviews
Snowflake obs
Hmm couldn't tell the difference between the snowflake obs and the black obsidian. A bit disappointed with this as bought twice now this gem. Still good service from you guys. ✅
11/08/2019
Julie W.
United Kingdom
Beautiful stone - highly recommend
great for making into pendant
10/08/2019
Natalie S.
United Kingdom
Snowflake obsidian
Lovely little crystal
10/01/2019
Catherine D.
United Kingdom
Very nice
I bought the obsidian tumblr stone for my son to combat school anxiety (he's 5) and its very lovely. I bought the bracelets for myself and a friend and I love it. It's a tad too big for me as I have spindly wrists so in the future they might consider doing a 'small' size but it's a lovely product well worth the money x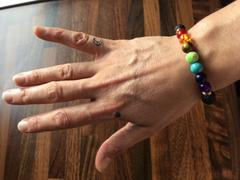 09/14/2019
Luan M.
United Kingdom
Good
Smaller than expected but beautiful.
Payment & Security
Your payment information is processed securely. We do not store credit card details nor have access to your credit card information.