Description
This is a beautiful Sodalite Heart Pendant complete with chain, so now you can wear your crystal all day.
Sodalite healing crystals lend themselves to promoting logic and creativity in the user. Not only that, Sodalite brings emotional balance and is said to be particularly effective at reducing feelings of panic and angst and promoting friendship.
This pendant comes with a silver plated chain that is approximately 46cm long. Size and shape of the hearts may vary slightly from the picture shown but they are approximately H 2.5cm x W 2.5 cm

Reviews
Customer Reviews
12/17/2021
Mr L.

United Kingdom
Extremely pleased
Everything was beautiful The pendants had a good size sodalite stone also the heart pendant. The silver chains are lovely, hope they wont tarnish. The hematite rings are nice; even though thick were not bulky and can be comfotably worn. The bracelet had nice sized sodalite stones and everything very reasonably priced and very nicely presented and packaged. I am so pleased with everything, I placed a second order. Thank you
11/16/2021
Sue

United Kingdom
Not true to description
I purchased this necklace in silver , however when it arrived the loop at the top of the heart is a golden colour, so looks silly on a silver chain. Otherwise the size of the stone is lovely, such a shame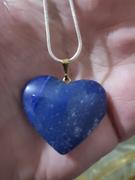 10/09/2021
Laura M.

United Kingdom
Stone heart
I thought the heart would be more like a crystal/ jewel type look but it's more like a stone. Still nice but did make me wonder if it was the right one sent.