Description
The Throat Chakra is the 5th Chakra and located at the centre of the neck at the throat area, is known as Vishuddha, meaning "Purification". The Throat Chakra is represented by the colour blue and is associated with speaking, expressing truth, non verbal or verbal means of communication, connection with the etheric realm, delivery of ideas and recognition of purpose. Symptoms of imbalance of this chakra are nervousness, mouth problems, continual re-occurrence of colds and flu and mood swings
With this in mind, we have created a crystal pack that contains all of the crystals that are associated with Vishuddha. Included in this pack are:
1 x

Angelite

Tumblestone
1 x

Blue Quartz

Tumblestone
1 x

Amazonite

Tumblestone
1 x Blue Tigers Eye Tumblestone
1 x Throat Chakra Guide Book
The pack comes in a blue organza bag representing the colour of the 6th Chakra to keep the crystals safe
Download Your Free Chakra Crystal Healing Reference Guide Here
Reviews
Customer Reviews
02/21/2022
Jacqueline S.

United Kingdom
Throat Chakra Healing Pack
More than pleased with my purchase, I've been holding anxiety and stress in my throat for a year and this is the first thing that is helping relieve the strangled feeling! Thank you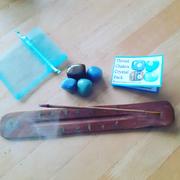 01/26/2022
Hilary S.

United Kingdom
Great
Good size of stones. I keep these on my desk at work.
01/24/2022
Corinne E.

United Kingdom
Another quality set of crystals
Such pretty, tactile and quality stones that come with a matching blue organza bag and guide. So pleased with this gift to myself and already enjoy using them. Arrived carefully packed, together with some other sets that I had ordered and delivery was swift … Will definitely use this company again. Would make a lovely gift.