Description
Tree Jasper is a great crystal for bringing in a deep peace and inner tranquillity supporting you during times of stress. The colours are beautiful greens and gold which helps you to feel calm and stimulate creativity and imagination. 
This product weighs approx 5-15g per stone
Actual item may differ slightly from the image shown.
Stones sold individually
Reviews
Customer Reviews
01/20/2022
Chloe

United Kingdom
Lovely size and colouring
Lovely crystal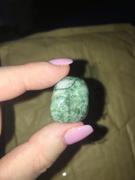 01/05/2022
Kali D.

United Kingdom
Tree Jasper review
love the design and the price was definitely worth it , you can tell its real from the positive energy and strong vibrations from the crystal.
12/10/2021
Lisa R.

United Kingdom
Purchase of healing crystals.
Bought several healing crystals, choosing from the many online. I asked in the purchase instruction for a note in the packing so I could tell which crystals were which. When the crystals arrived - all small and in the same bag, there was a note to say I had to purchase a guide if I wanted anymore information. Have seen other stores that package the crystals beautifully and label the packaging too. Only bought from here as was already getting another item. Not a very special or caring service and felt that the crysrals are just being churned out in bulk, reinforced by the plastic packaging and very speedy delivery.