Description
People born under the star sign Virgo are often loyal, analytical, kind, hardworking and practical. With that in mind this crystal pack has been designed around your birthstones.
This pack includes one of each of the following crystals -  Black Agate, Amethyst, Amazonite, Snowflake Obsidian, and Red Jasper and comes with a guide book that explains the contents of the crystals and the relevance to the Virgo sign. All of this comes beautifully presented in an Organza bag
Black Agate encourages a sense of reality and pragmatism which is perfect for those analytical moments.
Amethyst stimulates the Third Eye, Crown and Etheric Chakras enhancing cognitive perception and the purple colour is associated with loyalty, one of a Virgo's strengths.
Amazonite has a strong heart based energy that brings through a loving energy and may improve your personal relationships
Snowflake Obsidian helps people to keep focused and is known to reduce chaos from any situation enabling practicality to take over
And finally Red Jasper has a strong vibration and provides you with insight into any difficulties, helping to solve them as they occur, which is great if you are trying to help out others with issues with their lives.
Reviews
Customer Reviews
03/07/2022
Yvonne W.

United Kingdom
Zodiac Healing Packs.
I have bought over 20 Zodiac Healing Packs from Psychic Tree. All have been presents and are always well received by their new owners. I rate Psychic Tree with top marks. Orders rapidly packed and posted. Thank you !
01/19/2022
Olivia S.

United Kingdom
Virgo healing crystals
Absolutely love them - my order came the day after I ordered them packaged so well. They look lovely in my heart dish on my window seal with my other crystals. Looking forward to the positive energy they will give off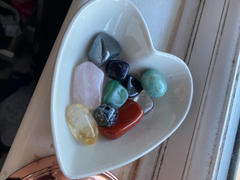 11/27/2021
Lisa N.

United Kingdom
Great size tumble stones
Great service and perfect gift