Description
This White Sage and Lavender Native Soul Incense has been blended perfectly together to create a calming atmosphere whilst restoring balance to the mind and soul. The incense is beautifully packaged within a sliding box decorated with native American print on the outside and finished with a delicate feather on the inside
Each box contains 12 incense sticks and has a burn time of approx 40 mins per stick. Packs of incense are sold individually
Reviews
Customer Reviews
Whit Sage & Cedar Soul sticks
Amazing to light, as these are my favourite incense sticks.
03/15/2022
Rena

United Kingdom
Amazing!
First time trying incense, I made an order of this and the Elements Aromatherapy gift pack. But these ones were truly amazing. The smell is divine and the packaging was beautiful. I will definitely be putting an order in for more Native Soul incense.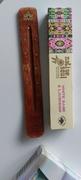 11/14/2021
Ana M.

United Kingdom
Aromatic
Very refreshing. I love incense.