Description
The ultimate must have and popular product.  These are lovely incense sticks and have a beautiful fragrance
Number of sticks in each pack: Approximately 20 sticks
Stick length: Approximately 23 cms
Burn time: About 30 minutes per stick 
Country of origin: India
Fill your home with the great aroma and simply unwind.
Reviews
Customer Reviews
02/03/2022
Nicola J.

United Kingdom
Good quality
Good quality. Arrived next day.
01/17/2022
Sofia

United Kingdom
Red stick
This is my first ever time buying insensé so I really wanted to get something that smells good I but I feel like all incense smell sort of that same. To me it smelt like a old person's shop which they probably burned incense.They also smell a bit floral as well and luckily when you burn them the smell isn't to strong. I won't be buying it again and my sticks didn't look like that image , mine were red and black.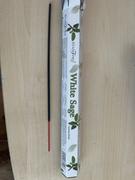 11/29/2021
José A.

United Kingdom
Delightful
Very pleasant smell and the best one for protection. These incense sticks are of top quality!